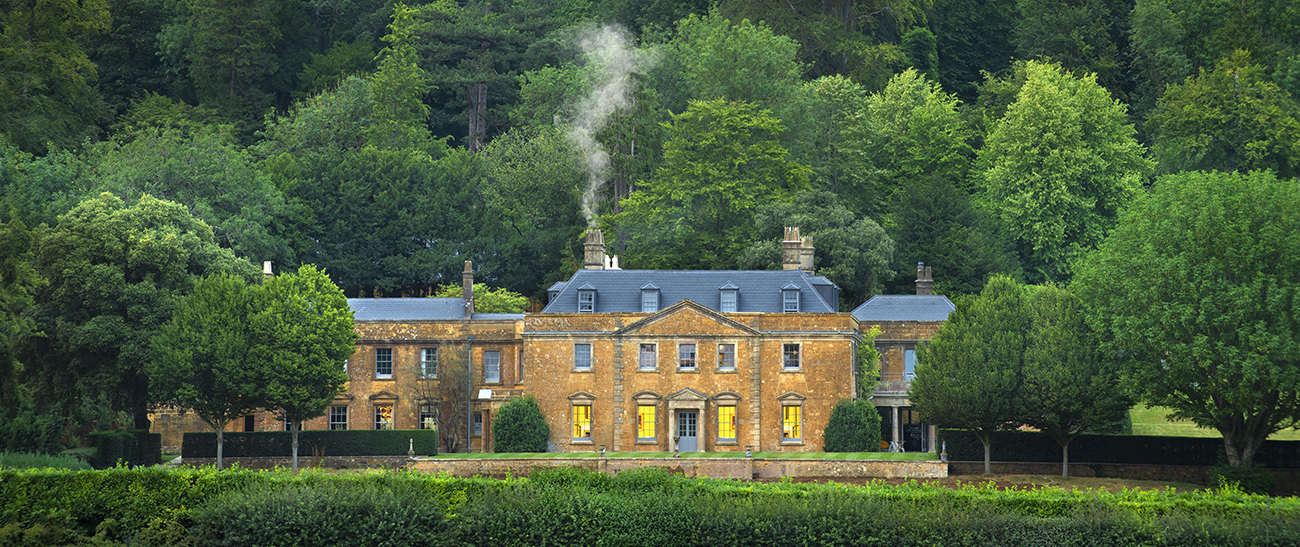 A country estate, reimagined, The Newt in Somerset invites guests to stay amidst acres of splendid gardens, woodland, farmland, and cyder orchards. 
Quiet elegance pervades every corner of this vast estate, with a nod toward modern conveniences that complement, not oppose, the hotel's genteel sense of place. Choose from accommodations in the gorgeous Georgian main house, the original working Stable Yard, which has been transformed into truly one-of-a-kind accommodations, and Farmyard rooms with hidden nooks and crannies and charming original features. For even more tranquility, choose the Farmyard, a half-mile from the main house, with its own pool, bar, lounge, and all-day kitchen. Some of the stylish rooms offer personal steam pods, while the top floor of the Farmhouse, accessible via a private stairwell, is particularly perfect for families. No matter which room is chosen, all have access to estate dining, the expansive grounds, and the delightful spa, with a Medieval Herb garden and indoor/outdoor pool. Seasonal, thoughtfully sourced dining is spot-on in each restaurant, whether that's estate vegetables, the choicest cuts from the salt room, or dayboat fish from the Dorset coast. Stress slips away and serenity surrounds guests of this classical, yet playful countryside estate.
Closest Airport

Bristol Airport (BRS), 1 hr; Heathrow Airport (LHR), 2 hr. 7 min.; Gatwick Airport, 128 miles, 139 minutes

Closest Train Station

Castle Cary Station, 3.1 miles, 8 min.

Number of Rooms

40 rooms and suites

The Restaurants

The Botanical Rooms, Farmyard Kitchen, Garden Cafe, Hadspen House Bar, Library & Lounge Bar, The Garner Bar (Complimentary, self-service), Cyder Bar (Outdoors)

Amenities and Facilities

Art and Painting
Bar & 2 restaurants
Bee Safari
Beezantium
Biking
Boutique & Gift Shop
Children's Program
Cyder Bar
Cyder, Wine and Honey Tastings
Daily Nature Excursions
Deer Park
Family Accommodation
Family Friendly
Family Interconnecting Rooms
Family Rooms Available
Farm
Farm Shop, House & Garden Shop
Foraging Experiences
Garden Café
Gardens
Gelateria
Hiking Trails
In Room Cocktail
Kitchen Garden
Library
Relaxation Gardens
Roman Villa Experience
Room Service
Sauna
Spa
Story of Gardening
Swimming Pool
Wellness Program
Wine Cellar
Woodland

Rebecca Recommends Amenities

A personalized welcome from senior management and a tour of the property with the Hotel Manager.

Rebecca Recommends Secrets

The 65-acre apple tree maze has more than 70 varieties of apples. At harvest time, and after the hard work of the estate's amazing bee colonies, over 25,000 gallons of cyder are bottled each year following an impressive cold-fermentation process. 

The name of the hotel, The Newt, comes from the many varieties of protected newts, including the great crested variety, that live on the grounds. The essence of The Newt comes from a deep esteem for the land, its animals, and its environment, with a focus on locality and sustainability.

Combination Stay/Why Visit

Just a 2-hour drive from London's Heathrow Airport and less than an hour from Stonehenge and Roman Baths, The Newt in Somerset is a 17th-century English manor that includes gasp-worthy gardens and orchards that not only delight the eye but supply the on-site restaurants with their daily scrumptious menu needs. Many of The Newt in Somerset's rooms have working fireplaces and freestanding soaking tubs. A former barn has been completely reimagined into a glass facade spa that includes an indoor swimming pool, an indoor/outdoor hydro pool, sauna, salt steam room hammam, rasul chamber, and halotherapy room. There are seemingly unending surprises around every corner of the property.

With over 800 acres of stunning English countryside beauty to explore together with 30 acres of formal but fun gardens, 60 acres of apple orchards and a cyder press, and 42 spaciously luxurious rooms, The Newt in Somerset should be put on your bucket list to visit. You will not be disappointed.

Why Us?

Take a bee safari, explore the Beezantium, wander through the awe-inspiring gardens and then hop on an electric golf cart and meander your way back to Hadspen House with a brief respite to admire the herd of lazy sheep grazing under the shade trees.  There are so many unique and captivating experiences to enjoy – deer park tours, wine, cider, honey tastings, garden story times, and walks, not to mention exploring the Roman villa, you will want to take your time enjoying all this magical estate has to offer. One visit will never be enough time at this English countryside estate.

Do your body good throughout the year by letting nature provide its nurture, and leaning into the rejuvenating benefits of elemental time spent in The Newt in Somerset spa. Water, heat, steam, earth, air. All hotel stays include the use of spa thermal facilities, two pools, and vitality pools. Our therapists can offer healing with herbal-infused treatments or indulge in some self-care in the hammam and mud rasul.
CONTACT
Bruton, Somerset BA7 7NG, United Kingdom